Beauty & Self
Books & Music
Career
Computers
Education
Family
Food & Wine
Health & Fitness
Hobbies & Crafts
Home & Garden
Money
News & Politics
Relationships
Religion & Spirituality
Sports
Travel & Culture
TV & Movies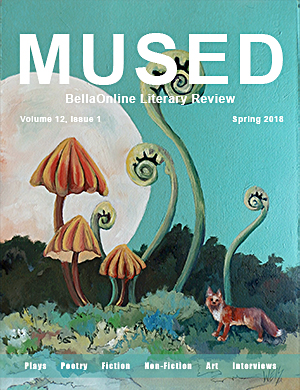 It can seem sometimes as if our world is whirling faster than we can keep up with. It can become overwhelming. Exhausting.

A balm which rejuvenates is to explore the creative efforts of individuals around us. To begin, turn off the noise and clatter of the world at large. Take a deep breath and instead focus on connecting with one fellow human being who presents their jewel of a thought to you. Examine it mindfully. Consider its meaning. Soak in the moment with this one human. Then connect with another. And another.

Enjoy the Mused Spring Equinox 2018 Issue



Shopping for Scents
Fragrance - Juliette Samuel, Editor

Shopping for scents has become a ritual, so to speak, for each new season.You can even do it online.




Canada's Royal Botanical Gardens
Senior Travel - Hazel M. Freeman, Editor

At less than 50 miles from Niagara Falls the natural beauty and inspiration you'll get from a visit to the RBG is a great reason to add it to your travel itinerary if your visiting the falls.




Family and Community
Christian Living - Lynne Chapman, Editor

God is all about togetherness. It isn't easy, but a three year old taught me the importance of it.




Suwannee River State Park
Florida - Georgiana Kurtz, Editor

Suwannee River State Park is located at the confluence of the Withlacoochee River North and the Suwannee. Because it's on the Suwannee River Wilderness Trail, it's a great place for paddlers to camp. The park also offers hiking and historical interest.




Moons of Uranus – Facts for Kids
Astronomy - Mona Evans, Editor

William Herschel was the first person ever to discover a planet. In 1781 he discovered the planet which was named Uranus for the ancient Greek sky god. Although Uranus has at least 27 moons, most of them weren't discovered until the Space Age.




I brought the sunshine to the UK
Romantic Getaways - Marianne de Nazareth, Editor

The sun is shining here in Woking, London and it's fun gardening in the warmth


| Google+ |
E D I T O R R E C O M M E N D E D
Personal Alarm & Whistle Combo


This is a wonderful personal alarm and whistle combo suitable for kids or adults. The personal alarm fits on all size wrists, and is easily adjustable with the Velcro type strap, which keeps it nearby while walking, jogging, or traveling. The alarm is loud and quickly alerts those nearby if one needs help.
Heart Beat


A clean cozy mystery for pleasure reading. Murder and mayhem with a side of humor. Second volume of the Evelynton Murder Series
Eagle One is 2nd to None!


Everyone should have the basics to keep their rides shiny and road ready. The only way to do it is with Eagle One all day long!