Beauty & Self
Books & Music
Career
Computers
Education
Family
Food & Wine
Health & Fitness
Hobbies & Crafts
Home & Garden
Money
News & Politics
Relationships
Religion & Spirituality
Sports
Travel & Culture
TV & Movies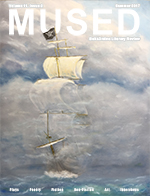 Our time on this Earth is fleeting and precious. We often know that in a vague, intellectual sense, and yet we can find ourselves whittling away those finite minutes without mindful thought. We should celebrate the beauty in a child's smile. The radiant sound of saying "I love you" to that special person. The warm touch of a hand. The delicate scent of a wildflower.

Enjoy the Mused Summer Solstice 2017 Issue



Your Kingdom Come
Christian Living - Lynne Chapman, Editor

Is this prayer meant to be only a plea, or is it a mission for me?




Great Florida Birding and Wildlife Trail (GFBWT)
Florida - Georgiana Kurtz, Editor

If you enjoy observing birds, butterflies, and other wildlife, you may enjoy a visit to one of the 510 Great Florida Birding and Wildlife Trail sites in Florida. This article suggests ways to plan your visit. It also goes over the benefits of ecotourism and spending time in nature.




Healthy Dips for Sandwich Meals
Sandwiches - Connie Mistler Davidson, Editor

Sandwich meals need delightful side dishes to enhance the sandwich. Enjoy these fresh & healthy dips with colorful veggie dippers-sweet mini peppers, celery, yellow summer squash, cucumbers, broccoli, cauliflower, jicama sticks, & carrots. Add some sweet fresh fruit for a complete sandwich meal.




Filberts for the Home Landscape
Landscaping - Connie Krochmal, Editor

Filberts and hazelnuts are ideal plants for the home garden. Some recommended varieties include Jefferson filbert and others.




Understood.org Website Review for ADD
Attention Deficit Disorder - Connie Mistler Davidson, Editor

Understood.org is a wonderful resource! They have thousands of resources for folks with attention difficulties and learning problems. This applies to many people with Attention Deficit Disorder, since learning disabilities and ADD tend to travel together. Kids who have one, often have the other.




Basil, The Herb Of Love, Money, and Protection
Pagan - Ian Edwards, Editor

Learn about the uses of the herb basil for magickal help in love, protection, and prosperity


| Google+ |
E D I T O R R E C O M M E N D E D
Simple Delicious Italian Recipes


Simple Delicious Italian Recipes. Authentic Italian recipes easy to follow and simple to prepare, written by Cinzia Aversa, Italian Food Editor at BellaOnline.com. A perfect gift idea for any Italian food lover.
Harvey Penickīs Little Red Book


This isnīt just another one of those instruction books written by a local golf pro. Penick is easily the most insightful instructor the game has seen. Little Red Book is a huge dose of reality about the golf and how to improve your game.
Suzanne Somersī Eat Great, Lose Weight


No one knows the struggle of dieting and weight loss better than Suzanne Somers. Through experimentation and countless consultations with physicians, she lays out a fool proof plan on how to eat great food and still lose weight.