Beauty & Self
Books & Music
Career
Computers
Education
Family
Food & Wine
Health & Fitness
Hobbies & Crafts
Home & Garden
Money
News & Politics
Relationships
Religion & Spirituality
Sports
Travel & Culture
TV & Movies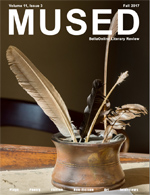 Autumn is a season for counting our blessings. For realizing just how much we have in life where so many others are without. It can often be easy to take things for granted. Things which millions of people desperately dream of having. By pausing for a moment, and looking around with mindfulness, we can find a new center. Begin with fresh energy.

Enjoy the Mused Autumn Equinox 2017 Issue



Reading comprehension. El niño y el gato.
Spanish Language - Angeles Fernández, Editor

Comprenhension exercise. Read the text and answer some questions. You can find a list of answers at the end of the article and a link to download this exercise in pdf format.




Kesari Bhath Recipe
Indian Food - Sadhana Ginde, Editor

My Sweet Saffron Rice is simply heavenly and can be eaten at anytime - as part of a meal or as a dessert or even a tea time snack. This recipe comes straight out of grandmother's very own kitchen, I hope you enjoy it as much as we do.




Comic Art in California
California - Korie Beth Brown, Ph.D. , Editor

Interested in comics, manga, and the like? Here are a few places to visit when between conventions.




Queen Alysanne Scarf
Knitting - Korie Beth Brown, Ph.D., Editor

Here's a free pattern for a quick knit, three season lace scarf. It's easy enough for beginners, but looks like an heirloom piece.




Pranayama and the Nervous System
Yoga - Korie Beth Brown, Editor

Breath is intimately connected to movement in yoga. Do you know the science behind the exercises?




Rare Works of Pope on Art Market - Francis Bacon
Art Appreciation - Camille Gizzarelli, Editor

British expressionist artist Francis Bacon is well known for his 'pope' paintings. Two rare Bacon papal works will be auctioned by Christie's in London. I'll discuss the merits of these fine paintings.


| Google+ |
E D I T O R R E C O M M E N D E D
Life Extension Mega Green Tea Extract


Green Tea, or Camellia Sinensis, has been a hot news topic in recent years. Green tea is a main staple consumed by Asian populations for thousands of years and is purported to have numerous beneficial effects on health - one of them being weight loss.
Jesus of Nazareth


Award winning film produced by Franco Zeffirelli, depicts the life of Jesus Christ from birth to resurrection. Originally made for television in 1977, this set is available on DVD or VHS. It´s been a few years since I last watched this awesome depiction of Christ´s life, but it still remains one of my favorite.